Katelyn Cusmiani, PT, DPT, Owner
Katie received her doctorate in physical therapy from CUNY Hunter College. In addition to he rprofessional license, Katie holds a Bachelor of Science degree in Biology from the college of Mount Saint Vincent. Katie has been treating orthopedic, neurological and gait/balance patients since she received her license in 2011. She opened RBNY Physical Therapy to offer quality care and attentive treatment to her neighbors, familym and friends in the community where she was born and raised.
Katie works in the office on Mondays, Tuesdays Fridays, and alternating Saturdays.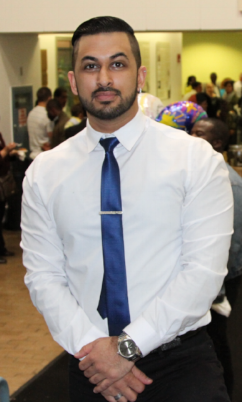 Vinod, otherwise known as Vinny, received his doctorate of Physical Therapy at SUNY Downstate Medical Center in 2016. Since 2010 Vinny has been treating patients for orthopedic and neurologic conditions. He is also a certified personal trainer and fitness instructor. He is a great therapist and addition to our RBNY family.
Vinny works Monday through Thursday.
ShannonMarie Caparatta, PT, DPT
Shannon is a 2017 graduate of Stony Brook's Doctorate of Physical Therapy program. She also received her Bachelor of Science in Biology at Adelphi University in 2013. She specializes in pediatric physical therapy but also handles orthopedic, neurologic, and geriatric conditions. Shannon has an n out-patient and school based rehabilitation background.
Shannon works in our office on Mondays, Wednesdays, Fridays, and alternating Saturdays.
Mark is a versatile Physical Therapist Assistant, certified in New York state with years of experience in high volume outpatient rehabilitation facilities. He specializes in gait and balance, vestibular therapy, and general strengthening and conditioning exercises. Mark also treats post operative patients and sports injuries.
Mark works Tuesdays, Wednesdays, Thursdays, Fridays, and some Saturdays.